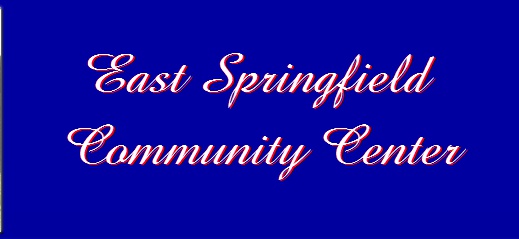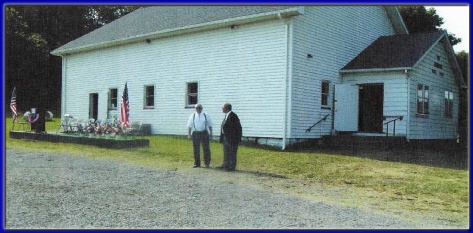 The building that now houses East Springfield Community Center was built in the 1870's and served as the Presbyterian Church of East Springfield until the late 1920's. Around 1930, the church ceased to be and the congregation allowed the building to be used as a community meeting place.

This building quickly became an important part of our community life. Box socials, plays, celebration and recreation activities were all held in the center. In 1956, a group of citizens approached the Presbyterians in an attempt to purchase the building. Approval was given and a major effort to renovate the building took place. Hardwood floors were installed and a small kitchen was added in 1963.

The center was a huge success. Plays were well attended and roller skating was a big hit. Basketball, dances, fairs, dinners and parties were all held at this new community meeting place, and a wonderful feeling of community togetherness was established.

Over time, the building began to show its age. The structure was being used less and recieving less attention. In 2007 the roof started to leak which caused damage to the ceiling tile and floor .

In 2009 some local citizens reorganized to save the Community Center. Renovation started early in the year and included a new building on the back with restrooms.

Today dinners are being held again with great success. Plus, the building is available for rentals again. More activities are available for our community such as basketball, dances and more! It is a wonderful feeling to see this large building come alive again!

An Affordable Place to Go

Mailing Address
If you'd like to help with current renovations,
you may send donations to:
Sue Call, Treasurer
8995 County Road 39, Bloomingdale, OH 43910

East Springfield Community Center
Physical Address
(not a mailing address)
9827 Country Road 39, Bloomingdale, OH
740-543-3700

OFFICERS
(Call for Rentals)

- President:
Brad Wine

- Vice President:
Irene Saho

- Secretary:
Nita Merrill

- Treasurer:
Sue Call ~ 740-543-3066

DINNERS
-
Dinners are held on the first Thursday each month

-
check the calendar for the menu

TRUSTEES
- Terry Bell
- Greg Call
- Shirley Hair
- Irene Saho

- Bob Serdar
- Nicki Tennant
- Diane Salsberry

RENTAL CHARGES

-
Building Rental
~ $25 deposit (refunded if clean)
- - - Large Original Building ~ $125
- - - Small New Building ~ $100
- - - Non-Profits for Fundraisers ~ $100
- - - Non-Profit Meetings ~ Free

-
Dinners
~ $8 per person (under 6 eat free)

- - For Rentals, please contact Sue Call at 740-543-3066